The Plazadek System – Waterproofing Membrane for Floating Deck Systems
Floating or pedestal roof deck assemblies can be an ideal low-maintenance deck surface on high traffic areas when properly installed. A reliable, roofing approved waterproof membrane may be the most essential component to extend the lifetime performance for flat roof deck assemblies designed as floating or pedestal systems.
Roofing Approved Plazadek System for Under Pavers and Duck Boards
Stamped concrete pavers, duckboards or other types of overlay products may be your preferred pedestrian surface on high traffic or commercial roof decks that are subject to abuse. These overlay products address the burden of heavy pedestrian traffic and Duradek's Plazadek System provides the waterproofing solution ideally suited for use with floating deck systems for complete waterproof protection.
The Plazadek System is an application of Duradek Ultra Vinyl specifically for use with pavers, duckboards, or other wear surfaces. The 60 mil product is 25% thicker than what is required for roofing membranes on commercial buildings (48 mil) and therefore capable of handling almost any abuse it would be subjected to over its lifetime.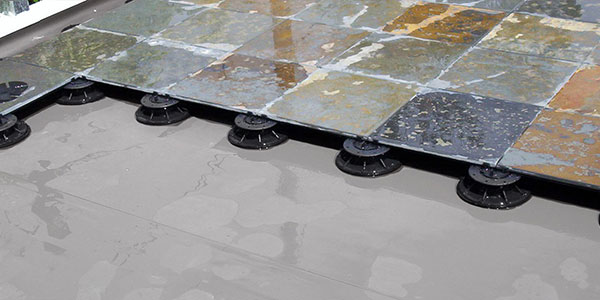 Duradek's experience in the waterproofing of surfaces designed for leisure living and pedestrian traffic has shown us time and time again that the application of pedestrian roofing membranes requires details and a skill set beyond just keeping the water out. Deck and balcony waterproofing details are far more complicated than basic roofing. It requires finishing around doors, drains, pillars, railings, stairs and many different types of siding and tie-ins to other roofing products.
In addition to the proven performance of our waterproofing membrane, the primary benefit of Duradek's Plazadek System is the trained applicators who install the material. Central Ontario Duradek will not sell waterproofing products to any company whose installers have not been trained. The typical details those installers work with every day on decks and balconies are just as important for decks covered with pavers or duckboards.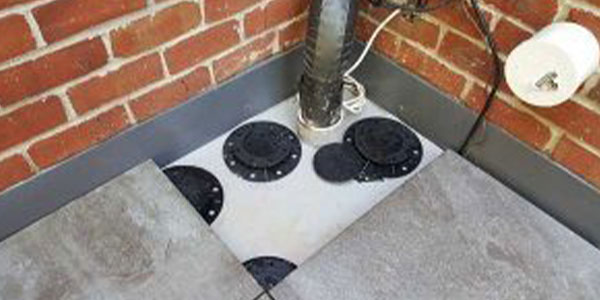 With our vinyl doing the waterproofing job under your Floating Deck System, you have an extremely durable, long lasting pedestrian deck or flat roof surface, while protecting the structure from moisture penetration.
Plazadek System Application Note
The Plazadek System with Duradek Ultra Membranes requires a separation layer or use of pedestals to support heavy wear surfaces.
Heavy wear surfaces like concrete pavers, interlocking stone or poured concrete are not to be placed directly on the Duradek Ultra Membrane due to friction and/or risk of puncture.
Failure to include a separation layer with stone or concrete assemblies will void the warranty.