Deck Membrane Systems for Superior Waterproof Performance
With our sheet vinyl membranes, a single application provides the waterproofing and an attractive surface in one product solution. Once the substrate is prepared, the Duradek sheets are rolled-out, glued down, and mechanically fastened at the perimeters. The sheets are fused together with a hot air welding process for a completely waterproof membrane.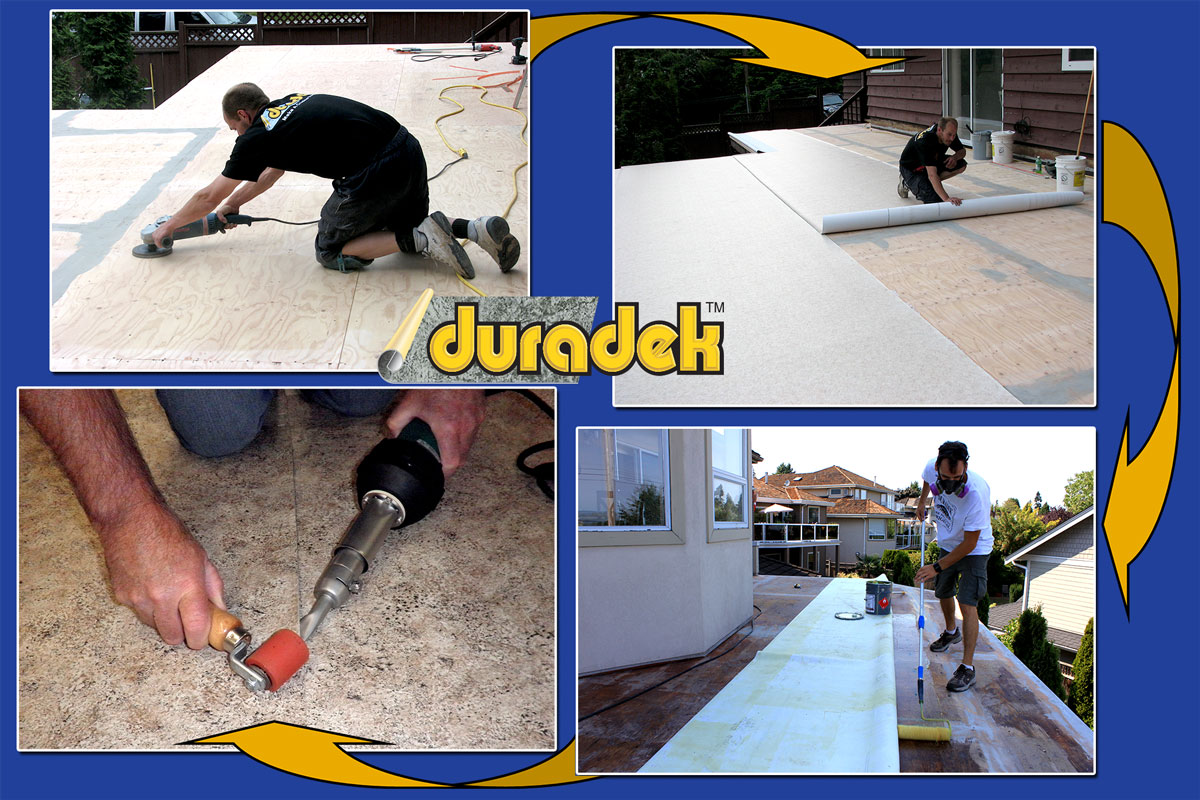 Compare Duradek Advantages over Traditional Deck and Roofing Systems
Duradek is professionally applied by trained and authorized installers. Duradek's multifunctional advantages bring time and cost savings when compared to other traditional deck or flat roof systems.
When wood is wet or coated with mildew, it is a very hazardous surface to walk on. Once moisture has seeped into the wood, it can warp, shrink or split the deck. Through natural process, any time a wood structure is left to the elements it will begin to rot. To avoid the inevitable, wood decks must be stained or painted at least every other year and failure to do so can result in costly repairs.
Functional Advantage of Duradek Membranes over Wood Decks
While concrete does not rot, it will crumble over time as moisture and rust can seep into it, destroying the integrity of the structure. Its porous surface is easily stained and a sealant will need to be regularly applied to prevent staining and cracking – and once it has begun to crack, it will not stop. Installation is complicated by the need for dry conditions for installation and curing time before use.
Functional Advantage of Duradek Membranes over Concrete Decks
Fibreglass is an extremely finicky and messy process requiring a delicate ratio of hardener and resin that can vary with air temperature and humidity, which makes it a challenging process to master. Onsite mixing makes its toxicity a factor and contractors must avoid skin contact and inhalation of its vapours. Installation requires at least 2 consecutive days of dry, warm conditions as it must be given time to harden and be sanded before use. Fibreglass will not rot like wood, but it will fragment and crack over its lifetime, eventually breaking away from the substrate. It is a rigid material that is very susceptible to expansion and contraction, and any movement will cause hairline cracks.
Functional Advantage of Duradek Membranes over Fibreglass Decks
Duradek vs Composite Decking
As one of the newest deck building product innovations available, composite decking has experienced (and possibly still is experiencing) some pretty significant growing pains. With dozens of examples of product failures (cracking, shrinking, crumbling, excessive discoloration) and companies changing hands, many homeowners were left with no warranty protection. This led to some class action lawsuits that awarded only partial compensation. It was the homeowners that were left with the added cost to cover the difference to repair failed decks.
Functional Advantage of Duradek Membranes over Composite Decks
Duradek vs Liquid Applied Systems
Traditional liquid applied waterproofing systems need ideal conditions for application. This process can require entranceways, walkways, and common areas to be closed off for lengthy periods to accommodate multiple stages of application and curing time. If there is any trapped moisture present, it can accelerate rot or cause the coating to bubble and peel, exposing the underlying structure to the elements. Because it dries to a solid surface, expansion and contraction will cause the coating to crack and chip away.
Job Site Advantage with Duradek Membranes over Liquid Applied Systems
Duradek vs Traditional Flat Roof Systems
Traditional roofing products like built-up tar & gravel or torch-down systems that require open flame on the job site can increase job-site risk (those contractors require a much more expensive insurance). These systems requiring open flame are not recommended for installation on occupied space. Plus, separate installation of the walking surface is still required.
Job Site Advantage with Duradek Membranes over Traditional Flat Roof Systems
Duradek vs Dry-Below Water Routing Systems
Dry below systems for elevated decks only route the water under a drip-through deck to keep it dry below, but the water is channeled and sometimes trapped within the joist system of the deck structure. With this system, the waterproofing and walking surface above still needs to be addressed to keep the structure waterproof and attractive, making this a two or three phase project.
Job Site Advantage with Duradek Membranes over Dry-Below Water Routing Systems